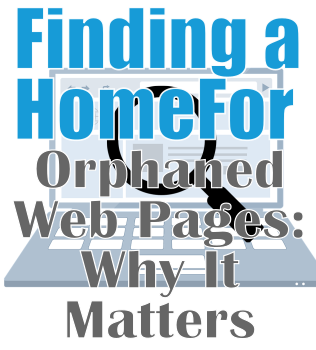 Building a viable and successful website can often be a daunting task that requires a complex mix of knowledge and skill sets. From web page design, to site structure, to content, to search engine optimization (SEO), user interfaces, to databases, to access controls, to payment systems and everything in between there is a lot that can go into a fully functioning and valuable web property. When building such a vast array of web architecture there are often times when single pages get lost in the bustle and shuffle of web design.  These entities are known as "orphaned pages". Orphan website pages are URL locations existing on the internet without any other references linking to them. Visitors can't locate them through the website navigation as there are no possible links on the entire website pointing to these particular lost page types. Despite having no palpable connection to an individual website "orphan pages" can still be picked up by search engines through sitemap submissions, web crawling, and page indexing. Since an orphaned page provides no substance or relative meaning to a website they can often have a very negative impact on not only resources and business, but also how the search engines view them in terms of search engine optimization (SEO), site ranking, and page ratings. Even though they are hidden from users they can still have a very real effect on the performance of any website both in the eyes of search engines and development teams.
Once a black-hat SEO technique used to manipulate search engine keyword rankings and website relevance, orphan pages or "ghost pages" are now highly frowned upon for their lack of contribution to anything of importance. Now extremely sophisticated technologies, search engines have caught on to these archaic web design tricks and punish violators accordingly. Due to the fact that orphan pages are not highly visible within a website structure they in many cases go unnoticed while also causing permanent damage to one's SEO and internet marketing efforts. To identify Orphan Pages, it is best to hire an experienced SEO company to review the Search Engine Result Pages (SERP) of Google for a specific website and compare the outputs with the internal page crawl information. This strategy is labeled URL mapping and is a common SEO company process. Even if an online business or company does not want a website page found by customers or clients anymore it is still critical to have that page linked appropriately within the site structure or removed entirely from the world wide web. So what are some of the more common ways website administors, web page masters and SEO companies handle orphan pages? Let's take a look at some of the most effective practices to deal with these buried nuances.
Common Practice #1: Footer Linking
One industry standard approach to orphaned pages is to put non-wanted client accessible pages within the footer of the website. By adding old or outdated Contact Us, About Us, Privacy Policy, and other pages in a small font on a site footer it still ensures that the links will continue to appear on every page of the website while at the same time being easily hidden from website visitors.
Common Practice #2: 404 or 410 HTTP Status Codes
If you have deemed an orphan page to be completely useless you can mark it with a 404 or 410 HTTP status code which tells the search engines to completely ignore a page when crawling and indexing and thus avoiding any negative ranking or rating ramifications. By tagging and marking a website page as a non factor within the site structure search engines know to skip over the content which allows the algorithms to not penalize you for having such URLs exist.
Common Practice #3: Archived Homepage
Another tactic is to have an "archive homepage" built, which lists all the unwanted sections and pages of the website, functioning similarly to a standard HTML sitemap page but one that is used for historical purposes only. With this strategy orphan pages are eliminated, existing pages will continue to receive their SEO trust and you remove the need to prioritize any old pages in your current sitemaps as the archive page will take care of it.
Common Practice #4: Re-Linking and Re-Optimizing
If a potentially orphaned page has been linked from an external website of high quality or if it has a large volume of traffic you will want to consider repurposing, re-linking or re-optimizing the page. Improving a page's content, reusing it for alternative purposes, or adding new additional links to it from existing pages on your website can be a perfect way to give an orphan page new light and meaning. If you believe it doesn't need an update you can also redirect it to pages such as a homepage or certain categories within the site.
Common Practice #5: Page Deletion / Removal
You can delete the orphaned page entirely from existence thus removing its future impact on search engine optimization (SEO) and site structure. In order for this method to work the page must truly have no internal links or importance to your website.
As you can see there are a wide variety of options and ways to deal with orphan pages but ultimately it is best to work with an experienced and well versed SEO company to identify which choices are best for your circumstances. Not all orphaned website pages are handled the same and by working with experts in the field you can best determine what should be done with which pages. An invisible and concealed burden to websites, orphan pages are best dealt with as soon as possible in order to side step the potential damage they can cause to search engine optimization (SEO) and internet marketing campaigns. These covert SEO assassins should be removed from the background of websites immediately and the most appropriate way to do so is by working with a trusted and reliable SEO company that you can feel confident in to get the job done correctly.
Let's Work Together
TELL US MORE ABOUT YOUR PROJECT
Let us help you get your website found.  Or, if you simply have a few questions, then fill out the form below and we will get back to you.